2:00 pm
I have been invited by my  son to visit him and three grandsons at the lake.  I may be gone until the end of the week.  Short term suport is at 4350.00.  Stay alert.
9:00 am
Good Morning!
The Shanghai Composite Index fulfilled its Head & Shoulders target by declining to 3312.72 before the bounce back to close at 3361.59.  Investors heaved a sigh of relief that the Chinese "National Team" arrived to bail out the markets.  However, there is a potential new formation that suggests a further decline after the bounce.  More on that when the chart information becomes available.
ZeroHedge reports, "Earlier today we said that with Chinese stocks suffering historic losses, HK's tech sector imploding..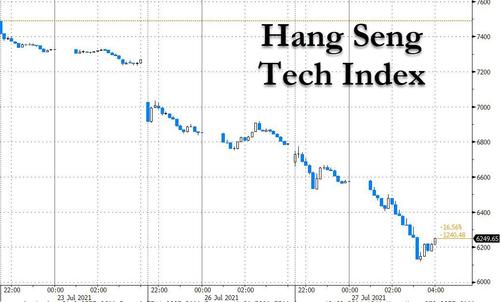 … and liquidation fears spreading to other, more serious products such as bonds and FX, it was only a matter of time before China's "National Team", i.e., the local plunge protection team, came out in full force to preserve confidence in centrally planned markets.
Well, just a few hours later, we learned that sure enough, the local Chinese bat signal summoning the plunge protectors has been activated with local press Securities Daily reporting that "the plunge is unsustainable" and will gradually stabilize. And since the media is merely a propaganda outlet to local state and central planners, it is telegraphing what will come next: a massive ramp in Chinese stocks."
SPX futures flattened out after reaching the 61.8% Fibonacci retracement vale at 4403.66.  While there is an oportunity to go higher, the SPX remains flat pending the Fed announcement this afternoon.
ZeroHedge reports, "With the rout in Chinese markets stabilizing after three days of mayhem following speculation that the Chinese "National Team" is set to start propping up the domestic market, on Wednesday stock-index futures rose along with European shares as investors digested a barrage of tech earnings earnings which saw Apple, Microsoft and Apple post $57 billion in combined profit, while Treasuries fell and the dollar was steady with traders reluctant to place large bets ahead of the outcome of the Federal Reserve meeting and Powell's subsequent press conference at 2 p.m. EDT.
At 730 a.m. ET, S&P 500 e-minis were up 2.25 points, or 0.05% after falling as much as 0.3%, while Dow e-minis were down 54 points, or 0.18%. Contracts on the Nasdaq 100 led gains, rising 39.75 points, or 0.26%, as technology shares jumped in Europe, though Asian equities were weaker amid the market turbulence triggered by China's regulatory clampdown."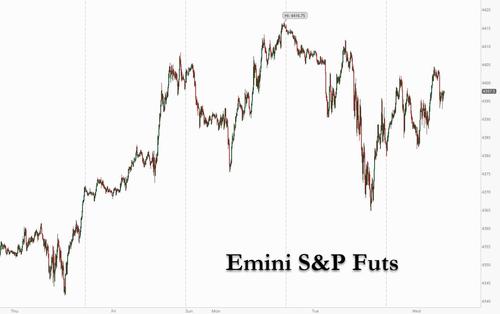 VIX futures pulled back to 18.56 this morning, remaining above the 50-day Moving Average at 17.74.
Investing observes, "Some investors appeared increasingly nervous in recent weeks, reflecting the market's fragility, even as major U.S. stock benchmarks rose to fresh new peaks in recent weeks, according to BofA Global Research.
The Cboe Volatility Index, known as the VIX, has been rising despite the S&P 500 index posting new highs, BofA analysts said in an equity derivatives report Tuesday. The S&P 500 SPX, -0.47%, Dow Jones Industrial Average DJIA, -0.24% and Nasdaq Composite COMP, -1.21% each posted record highs Monday, though they were trading down Tuesday afternoon."
TNX has bounced this morning after yesterday's pullback.  The Cycles suggest the pullback may be over with another week or more of rally until the new Master Cycle is complete.   The Model suggests a very strong move higher starting today/tomorrow and going into the first week of July.
ZeroHedge observes, "There's an asymmetric risk of U.S rates rising in response to Wednesday's Fed meeting, given the extremely low current bond yields.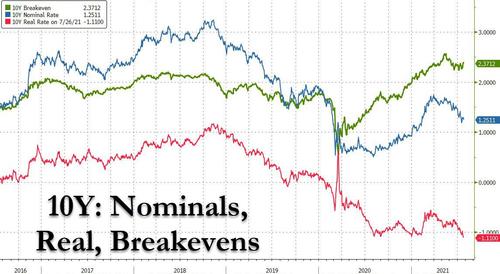 A baseline assumption would be for modest curve steepening if Powell remains dovish. However, it's hard to identify sources of surprise, given Powell's clear guidance from his Congressional testimony."
USD futures are rising again after a brief 1 week pullback.  Normally pullbacks last up to 3 weeks, but the pattern may allow a breakout based on higher TNX rates causing the USD to strengthen.  This pattern is called a "running correction" as the pullbacks may not break the rising trading zone.