10:43 am
SPX has broken beneath 4400.00 where this Friday's puts edge out the calls by 400 contracts.  A subsequent decline from here may tip the scales even further to the puts.  Beneath 4350 the options market likely tips the scales toward the bears and could become a aelf-reinforcing mechanism.
The NYSE Hi-Lo is at 61.00 after opening at 10.00.  Thus, it hasn't given our sell signal confirmation.  My observation is that the Hi-Lo may turn negative beneath 4350.00, which is also Short-term support.
Today is day 260 of the old Master Cycle.  With that knowledge, we may begin taking aggressive positions with lower risk than usual.  I will attempt to keep you informed of confirmations.
7:20 am
Good Morning!
The Shanghai Composite Index fell to 3380.28 in the overnight session, leaving investors with a 5% loss in two days.  Today comes the realization that this may not be a one-off stumble.  It is likely that this decline may go further to the Cycle Bottom support at 3290.62 before bouncing, clearing the deck of all gains since the December low.  This action may have serious consequences for the tech-heavy NASDAQ.
ZeroHedge observes, "Right Out of the Red
It's all about China again today in markets – and what we are seeing in some corners is just a reflection of what we could potentially see in many others ahead.
Chinese and Hong Kong stocks tumbled yesterday, while the Nasdaq Golden Dragon sub-sector trading Chinese tech did too, now down 15% since Thursday, the most since 2008. CNY hardly moved, however. After all, why should a currency and the structure of its economy have any relationship? (Which says so much about said structure.) US 10-year yields dipped as low as 1.22% on the general red before remembering "This is 'Murica!" and adding white and blue to close back at the merely depressing 1.28% level."
NDX futures dipped to 15062.30 in the overnight session before returning to the flat line, as I write.  It is clear that the decline was a knock-on reaction to the Shanghai decline, but it was quickly bought.  Is this the action of buy-the-dippers or the PPT?
The Nasdaq Hi-Lo Index shows a singular lack of new highs.  The NAHL is on a sell signal, waiting confirmation from the VIX/VXN.
SPX futures also took a dip to 4398.60 in the overnight markets, but have returned to green as I write.  Its as if the PPT is saying, "Nothing to see here.  We got you covered."  While retail investors may not be aware of what is going on in China, it is probable that the powers-that-be want to keep it that way.
Nevertheless, today is day 260 in the Master Cycle.    The 21.5-year Super Cycle is complete.  Now for the recognition.
ZeroHedge reports, "Futures swung from all time highs to losses during the European session and then rebounded again as Asian stocks hit their lowest this year on a third straight session of selling in Chinese internet giants, while real bond yields hit another record low ahead of earnings from the most valuable companies on Wall Street and in the run-up to the two-day Federal Reserve meeting. S&P 500 E-minis were down 5 points, or 0.11%, at 07:15 am ET. Dow E-minis were down 77 points, or 0.22%, while Nasdaq 100 E-minis were up 3 points, or 0.02%."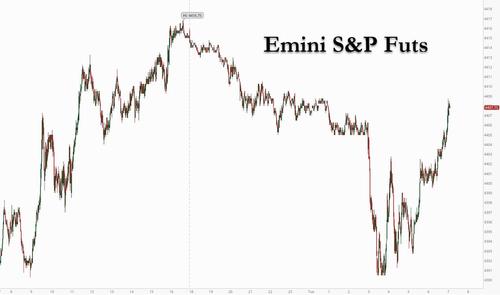 VIX futures rose to a high of  19.40, above the 50-day Moving Average at 17.98.  This puts VIX on a buy  (SPX sell) signal.  The NYSE Hi-Lo Index closed at 56.00 yesterday.  At this point, we await the NYSE Hi-Lo to decline below zero.
USD futures continue to consolidate in a tight range this morning.  There is good cause to believe that the rally in the US Dollar may be over.  The Cycles Model now posits a probable decline through late September.  Primary Wave [2] may be a flat correction.
TNX appears to be in correction mode.  It may decline to round number support at 12.00.  The Cycles Model suggests another week of correcting before the uptrend resumes.