7:45 am
Good Morning!
Please read yesterday's blog to get a feel for what is about to take place.
SPX futures declined to 4383.70 this morning, but ave nearly recovered by this writing.   The urge to buy the dip is still strong, but the air is getting thiner, here.  While the NYSE Hi-Lo Index made an intraday high at 196.00 onFriday, it closed at 97.00, a 2.9% participation in new 52-week highs.  Today is day 259 of the Master Ccle, although I marked the high on Friday thus far.
ZeroHedge reports, "Futures started off the week on the wrong foot, sliding overnight from Friday's record high before recovering some losses as Chinese stocks crashed on multiple parallel crackdowns by Beijing (more on this shortly), souring global bullish sentiment while cryptos exploded higher further kicking Keynesian apes in the groin. All of this is happening ahead of the busiest week of Q2 earnings season and Thursday's FOMC meeting, while a majority of traders are rushing to catch some rays ahead of the next round of covid lockdowns/vote-purchasing stimmies. S&P 500 E-minis were down 11.00 points, or 0.25%, at 715 a.m. ET. Dow E-minis were down 131 points, or 0.37%, while Nasdaq 100 E-minis were down 21.75 points, or 0.14%. Treasuries pushed higher, with the 10-year real yield hitting a record-low -1.127%. The dollar fluctuated and oil declined below $72 a barrel."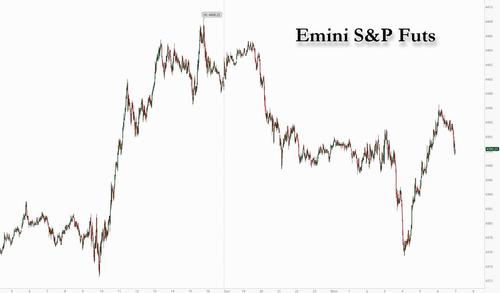 NDX futures declined to a low of 15049.70 before a partial recovery.  It is simply too early to tell whether Friday's high marks the top.  Friday's NDX Hi-Lo Index closed at 12.00, a mere .375% participation in new 52-week highs.  It is hard to imagine that Friday's high was made by so few stocks.
The Shanghai Composite Index declined to 3424.74, violating all the trendlines before closing just beneath the Head & Shoulders neckline at 3485.05.  This massive "dump" in the tech heavy SSEC is likely to be the catalyst to the behavior in the NDX and US equities today.   The Cycles Model suggests a possible three-week decline from here.
ZeroHedge observes, "The crash in China continues. It all started with the cancellation of the ANT IPO a few months ago. Since then we have gotten used to new regulatory crackdown news on a weekly basis, mainly in tech, but lately even in areas like "edtech" which has been brutally punished.
It's just a Chinese local issue?
Yes, this is a Chinese tech issue, but the contagion is starting to spread to other parts of the Chinese market. We saw this accelerate overnight.
Limiting the power of the big Chinese tech firms is potentially a good thing, but the value lost since mid February is huge.
The stress we are seeing in Chinese tech is now spreading to other sectors. Sure, for now this is a local problem, but it could potentially become a global problem, and we are referring to risks in terms of P&L. The value loss is significant, and the pain is felt globally."
VIX futures rose as high as 19.39 this morning before pulling back.   The markets are now entering the most negative months of the year.  The current Master Cycle may end up as a high in mid-August, according to the Cycles Model.
TNX futures pulled back to 12.26 before the cash open this morning.  This is a normal retracement to absorbe the recent gains from th eMaster Cycle low.  We may expect TNX to decline to 12.00 or possible a bit lower.   This is a good time to accumulate shares in TNX or short UST.
USD futures appear to be sonsolidating within Friday's trading range after Wednesday's Master Cycle high  There is likely to be a short correction back down to the support areas between 91.30 and 91.89.