2:12 pm
BKX, the proxy for market liquidity remains beneath its 50-day Moving Average.  Perhaps this is also an indicator that the market may be exhausted.
ZeroHedge observes, "While today's jobs report came in a bit on the weak side despite its impressive headline beat of 850K jobs created in June (a majority of which were teachers and bartenders) with wage growth slowing and the unemployment rate rising, we expect the Fed to look at today's jobs data and try to again kick the can although whether this month or next, the inevitable taper announcement is coming not too long ater, the first rate hike as well. The only question is when.
Meanwhile, until that happens, Bank of America's CIO Michael Hartnett reminds us that every day for the foreseeable future, as has been the case every day for the past 6 months, central banks bought $10 billion of bonds every day, the US federal government spent $20 billion every day, global stock market cap grew $73 billlion every day, and US bond & stock issuance averaged $20 billion every day.
The result: the just completed first half of 2021 was the 7th best for global stocks in the past 100 years…"
2:02 pm
SPX is finally giving us a blow-off top at 4350.00 today.  This is a top to sell into.  By the way, Primary Wave [5] is almost exactly 38.2% the length of Primary Wave [1].   This supports the probability of this rally being a huge Ending Diagonal since 2009.
1:25 pm
The DJIA has hit its target at multiple levels and may be ready for its reversal.  The transports have also stayed beneath their May 10 high in a Dow Theory confirmation.  This turn will whip the other indices (currently in blow-off tops) around in what may be a flash crash with multiple gaps down and investors trapped with ever growing losses.
ZeroHedge comments, "Michael Burry caused a stir on twitter (and subsequently in the financial press) late last month when he tweeted (and quickly deleted) that he expected "the mother of all crashes" would soon "spell doom" for crypto.
While he's gone quiet again on Twitter, on Thursday, Barron's published an interview with the infamous Scion Asset Management founder (whose story was featured in "the Big Short") where Burry shared his skepticism of the "meme stock" craze, including GameStop, a company whose shares he correctly identified as undervalued back in 2019 (though he sold his position shortly after the price started trending higher in late 2020, missing out on the late-January surge in the company's shares)."
7:20 am
Good Morning!
Those of you who love the outdoors will understand why it is so hard for me to tear myself away from our family lakefront property in northern Michigan.  We did renovations during the day, so the evenings were a favorite time to unwind and enjoy the campfire and the view.
SPX futures reached an all-time high of 4318.12 and may be finishing up its extended performance.  In the cash market Wave [v] equals 1.25 X Wave [i] at 4323.00, so there may be another push higher today.  The two things keeping the markets higher are the end of quarter window dressing (now over) and options expiration ending today.
In today's options expiration, the calls outnumber the puts starting at 4375.00 and above, while the puts dominate below that level.  If I were a dealer, I would want to see the SPX decline to that level, since buying the index for only a day would be very costly if I were caught short.
The non-farm payroll report may spark a move in either direction, so we may know sooner than later today.
8:30 am
The non-farm payroll number came in at 850, missing the Fed's bogey of 1 million, but above the 720,000 minimum.  ZeroHedge says, "After several months of major payroll disappointments, the BLS finally realized it has to come up with a strong number and it did just that moments ago when it reported that in June the US added 850K jobs, well above the 720K expected, and almost 50% more than last month's 583K, in a welcome sign that the chronic labor shortages may finally be ending."
ZeroHedge reports, "Another day, another record high for US stocks which have not hit a new all time high virtually every single day since the post-FOMC mini tantrum when Biden met with Yellen and Powell. At 7:30 a.m. ET, Dow e-minis were up 15.50 points, or 0.05%, S&P 500 e-minis were up 4.50 points or 0.1% to a new record high of 4,315, and now above Goldman's year end price target of 4,300 and Nasdaq 100 e-minis were up 29.5 points, or 0.2%."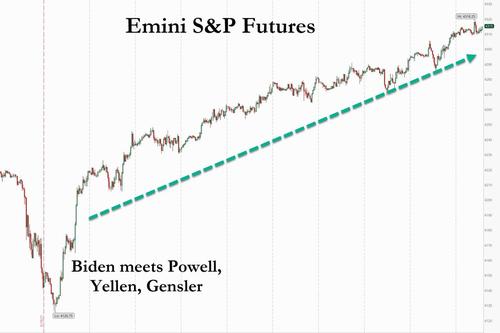 Tuesday's Master Cycle low in the VIX came early as the futures hover above that level, so we withhold judgement until after options expiration whether it is in or not.  The Ending Diagonal appears complete, so it won't be long to discover whether the new trend has begun.
NDX futures made another all-time high at 14613.00 as it rallies to its Cycle top at 14660.91.  Open interest in puts dominate at 14550.00 and below, leaving little room for error should the market hit an air pocket during expiration.
TNX futures are still hovering just beneath a triple resistance at 15.41 to 15.56 (the 50-day Moving Average).  Wednesday's low at 14.38 is not the Master Cycle low since it was made on June 19 at the same level.  That suggests Waves [i] and [ii] may have been made with TNX coiled for a breakout.
USD futures reached a new high at 92.74 this morning as it rallies toward its intended target at 96.00.  It is due for a Master Cycle high by mid-week, possibly reaching its Cycle Top resistance at 93.70.