10:40 am
SPX is now complete to the upside.  There are 5 distinct Waves in the final Wave C and its components.  In addition, The hourly Cycles Model suggests a break in the uptrend by noon today.  No guarantees, but I cannot find any convincing arguments to the contrary.
12:00 noon
A check on open interest in the options market show puts outnumber calls at 4225.00 and below.  The calls have it at 4265.00 and above.
ZeroHedge notes, ""Gamma Squeeze" has been the word of the year so far for many freshly-minted equity-trading gurus (as they watched their AMC, GME, and other meme stocks momentum ignited "to the moon" time and again in the first half of 2021).
To have a "gamma squeeze" there first needs to be a "delta squeeze".

A sudden surge in call volumes can lead to options market makers (MM) having to purchase shares of stock, which can drive the stock price higher.

When new options positions are traded, MM may need to immediately hedge the risk generated by these new trades.

This initial hedge is called a "delta hedge" and can result in large amounts of stock being purchased. As the stock price moves around, MM may need to adjust their hedge positions, which is called a "gamma hedge".
8:00 am
Good Morning!
This is the day of my eldest daughter's wedding, so I will be paying absolutely no attention to the markets after this brief notation.
SPX futures are making a new all-time high this morning (by less than a point higher than the June 14 high).  It is very tired and has wasted a lot of energy (liquidity) for little results.  Wall Street is doing its best to keep sentiment high, but it is wearing very thin.  Today is day 258 of the Master Cycle.  A reversal may be imminent.
ZeroHedge reports, "U.S. stock-index futures rose, with Nasdaq 100 contracts set for a fresh record and spoos just shy of all time highs, as investors were encouraged by dovish commentary form a barrage of Fed speakers which will continue today with Barkin, Williams, Bullard, Kaplan, Bostic Harker all speaking shortly after we get a slew of economic data.  At 7:15 a.m. ET, Dow e-minis were up 168 points, or 0.5%, S&P 500 e-minis were up 20 points, or 0.47%, and Nasdaq 100 e-minis were up 80 points, or 0.56%, to a record 14,344. 10Y yields were 1.49%, oil was flat, gold was trading near session highs and bitcoin rebounded from overnight lows."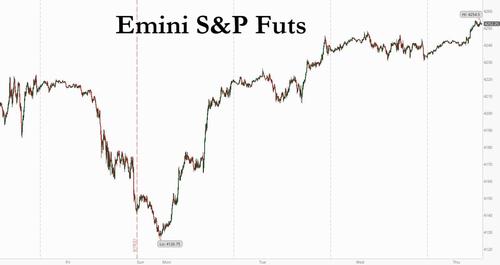 NDX futures made a new all-time high at 14358.50 this morning.  NDX still leads the markets and is likely to lead the downside, as well.
NorthmanTrader comments, "Oops, he did it again. The second there was any concern in markets about tapering or the potential of earlier than expected interest rate hikes as suggested in last week's Fed dot plot Jay Powell hurried to assure investors that the dot plot was meaningless and when Bullard dropped a 2022 rate hike bomb suggestion on Friday both Powell and Williams, aided by Kashkari on Friday, immediately put a stop to any such notion this week. After all Bullard is not a voting member and so who cares what he says. Voting members stay on script non voting members and ex officials can be more bold and reality prone in their assessments."
VIX futures made a new low at 14.19 this morning.  This is the lowest it has been since mid-February last year, a week before the crash began.  Is this Deja' Vu all over again?  VIX has been persistently ratcheted  down to keep up momentum in stocks.  The current Master Cycle is unbelievably stretched at 281 days.  There will be no warning when the entire market reverses.
TNX may have completed its retracement and is ready for the reversal.  It is in a period of strength over the next several days that should propel it above the 50-day Moving Average.
ZeroHedge reports, "For the second day in a row, today's Treasury auction of $61BN in 5 year paper, has come in quite weak in the aftermath of last week's hawkish FOMC pivot.
One day after we got a tailing, disappointing 2Y auction, we got a carbon-copy only this time at the 5Y tenor, when the US sold the latest batch of 5Y paper at a high yield of 0.904%, a sharp jump from last month's 0.788%, the highest 5Y auction yield in 16 months since the pre-covid Feb 2020 auction, and a 0.2bps tail to the When Issued 0.902%.
The bid to cover dropped from last month's impressive 2.49 to just 2.36 which was right on top of the six-auction average."