7:05 am
Good Morning!
My eldest daughter is getting married tomorrow and, being the father of the bride, I have a lot of responsibilities over the next two days.  I may not be able to comment as often as I would like.
NDX futures continued to make new all-time highs at 14312.62 in the overnight market in what appears to be an extended Wave [v].  While the futures are coming back down from their peak, there is a long way to decline before a chart sell signal is reached.  Each of the previous two declines have met with push back in the overnight markets, quite possibly from the Bank of Japan, which is buying equity ETFs.
SPX futures peaked at 4248.12, short of yesterday's high at 4255.84.  The two day rally met all the requirements for a retracement, short of a new all-time high.  Short-term support at 4227.7 is the first level at which we go on alert for a sell signal.  Should the SPX make new highs, we could see SPX reach for the Cycle Top resistance at 4281.88 over the next two days.  The next Fibonacci/Wave relationship level is 4300.00.
ZeroHedge reports, "S&P 500 futures erased earlier gains, and after rising as much as 0.3% when they traded at all time highs, Eminis were last seen down 4 points or 0.1% to 4,232, as European stocks also struggled to gain momentum on Wednesday despite reassurances from U.S. Federal Reserve Chair Jerome Powell that the Fed is not rushing to hike rates contrary to the market's post-FOMC freakout last week. Treasuries fell, the dollar was flat and bitcoin soared after tumbling on Tuesday.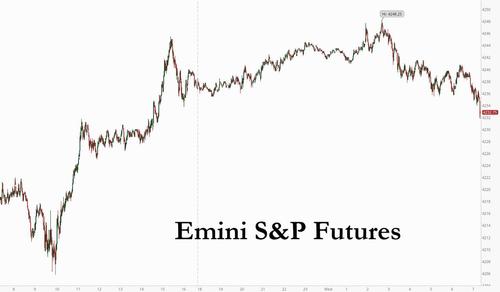 On Tuesday, Powell sought to reassure investors on Tuesday, saying that the central bank will watch a broad set of job market data to assess the economic recovery from COVID-19, rather than rush to raise rates on the basis of fear of inflation. New York Fed President John Williams echoed Powell, saying that a discussion about raising interest rates is still "way off in the future."
VIX futures are consolidating within yesterday's trading range.  It has made a 91% retracement and may be ready for a reversal.
TNX still lingers near the Master Cycle low as I write.  However, the Cycles Model implies a sudden burst of strength today and more to come by the end of the week.  It may be that the Fed cannot keep a lid on this kettle despite all the jawboning.