7:45 am
Good Morning!
NDX futures sold off to 13842.12, then bounced to 13939.88 ion a partial recovery.   It is on a sell signal with further confirmation at the 50-day Moving Average at 13689.74.  The immediate target is the March 7 low at 12208.40.  While recognizing the need for a "correction," most pundits are talking down the potential magnitude of it.  "It's only a flesh wound."
ZeroHedge reports, "Well, the Fed blinked: with virtually nobody expecting a hawkish surprise from Powell on Wednesday, the Fed chair shocked the world and sparked a bond rout and dollar surge when he unveiled that the median Fed dot now showed not one but two rate hikes in 2023…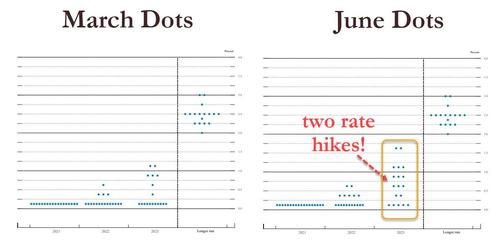 … confirming that inflation is indeed non-transitory (at least until we get another major deflationary burst). And yet, despite the 4th largest bond selloff in 5Y TSYs since 2011…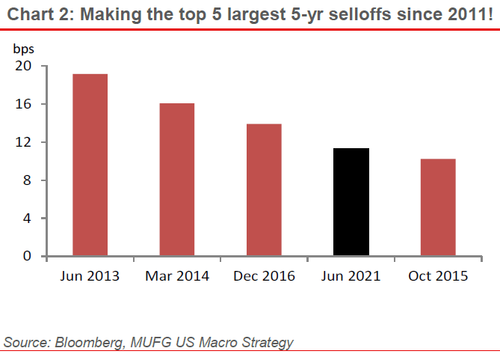 … futures have already largely recovered from any residual surprise and the Emini rebounded from an overnight slump, even was European and Asian markets all traded lower on concerns what the newly-hawkish Fed means for risk assets. S&P 500 futures were down just 0.3%, trading at 4,200 after dropping as low as 4,183 earlier and down from 4,230 before the FOMC announcement."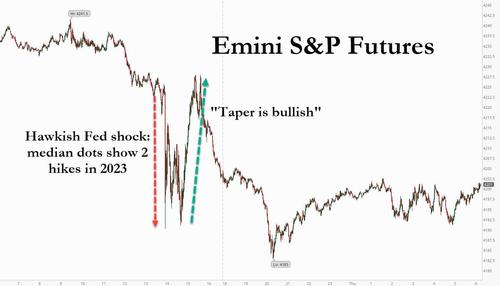 SPX futures recovered from their low at 4202.4, but remain beneath Short-term resistance at 4225.26.  It is on an aggressive sell signal with further confirmation at the mid-Cycle support at 4190.76 and the 50-day Moving Average at 4173.39.  The June 18 options show the dominance of calls at 4200.00 and higher, while the puts prevail at 4175.00 and lower.  Should SPX close beneath 4175.00 today, a gamma-induced sell-off may result.
VIX futures have moved solidly higher above the 50-day Moving Average at 18.23 this morning, but no breakout, yet.  VIX is on an aggressive buy signal with confirmation at the breakout at 9.13.
TNX appears to be hovering just beneath its 50-day Moving Average at 15.95.  S breakout above that level confirms the buy signal.  The Cycles Model suggests an approximate 2-moth rally while the proposed target is 19.71, its November 2019 high.
USD futures appear to have risen above the mid-Cycle resistance at 91.47 in a startling reversal that has taken the USD short sellers by surprise.  The Cycles Model suggests the USD may rally in strength through the month of July.  Its target appears to be the Broadening wedge trendline at 96.00.