10:55 am
After rising within 4 points of its all-time high, SPX had a mini-flash crash, erasing all its gains.  This was expected and may be used as an aggressive sell signal.  The first confirmation of the sell signal comes beneath mid-Cycle support at 4171.56.
VIX rallied to 18.40 but has not crossed the 50-day Moving Average at 18.86, as yet.  NDX has the largest losses and is leading the decline, as anticipated.
ZeroHedge reports, "…the most liquid stock market in the world?
Just prior to the open, VIX did another of its now infamous mini-flash-crashes (no that's not a fat finger)…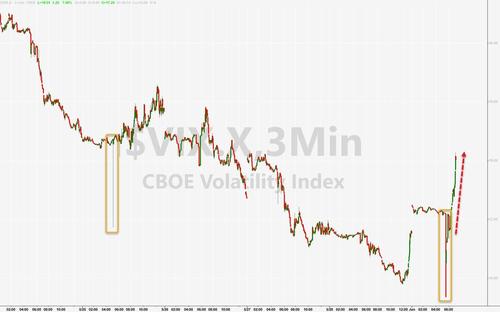 And while stocks were higher from Friday's close, they puked shortly after the better than expected Manufacturing survey data signaled stagflation. Nasdaq is leading the drop but all the majors are tumbling…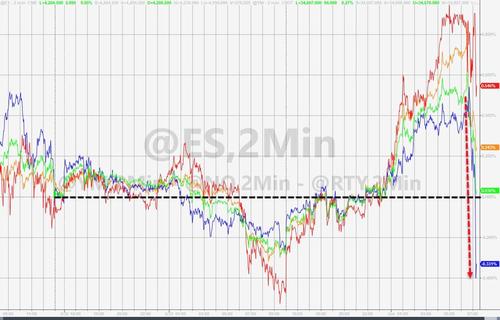 Bear in mind that SpotGamma warns that gamma may flip around the 4200.. exacerbating any drop from there…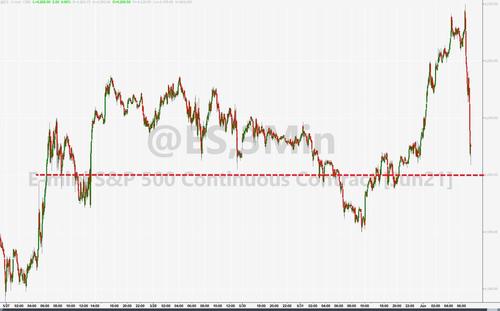 Get back to work Mr.Powell (even if you are cornered)."
7:55 am
Good Morning!
NDX futures rose to 13755.88 this morning, suggesting a possible extension of Wave [c] of 2.   The Cycles Model showed strength over the weekend which should wind down after the open.  The Elliott Wave structure shows it to be minimally complete, so the NDX may go either way.  Wave [c] will have completed 8.6 days by mid-morning.
SPX futures made a new retracement high this morning at 4228.12 this morning, extending Wave [c] of 2.  The May 7 high remains as the all-time high.
ZeroHedge reports, "It turns out that Monday's dip in futures was a low-volume headfake, and on Tuesday global markets hit a new record high as U.S. equity futures jumped, with spoos also approaching all time highs after markets shrugged off concerns about rising inflation and looked ahead to U.S. employment data later in the week. Brent rose above $70 to the highest since October 2018 as OPEC+ forecast a tightening global market before members meet to discuss production output today. At 715am, Emini futs were 4,226 up 24 points ot 0.58%; Dow futs were up 212 to 0.61% while Nasdaq futs rose 52 pts, up 0.38%."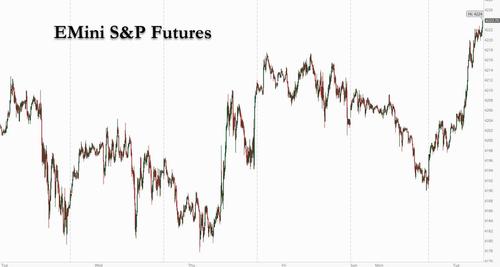 VIX futures rose above the trendlines yesterday to a weekend high of 17.24 and appear to maintain their elevation a I write this commentary.  This may be the first sign that something may be afoot.
TNX is challenging the 50-day Moving Average at 16.30 this morning.  Today is day 257 of the current Master Cycle.  The correction appears to be complete at 61.8%.  This leave the possibility of an extension higher, especially since the Model shows strength this coming week.
USD futures made a weekend low of 89.86, suggesting that the rally out of the Master Cycle low is correcting.  Futures may linger near the lows this week, as trending strength does not appear until next week.
ZeroHedge reports, "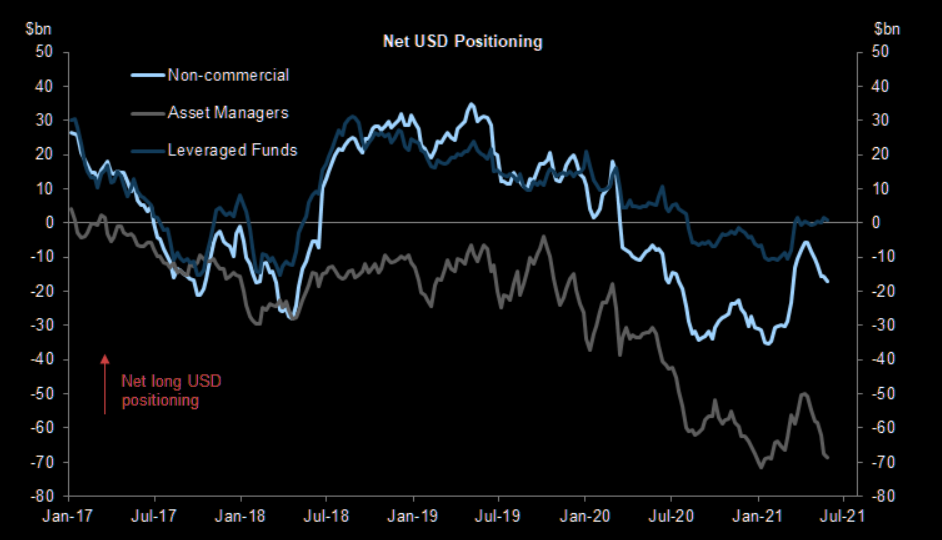 Source: Haver Analytics
Over the week ending May 25, non-commercial traders net sold $1.4bn USD, increasing their net short Dollar positions for the sixth consecutive week."