3:15 pm
Just another day left of this nonsense?  I am constantly analyzing the Cycles to see what compels the market to do what it does.  The Monthly Cycle strongly suggests that May 7 was the high for this trend.  Here's another bit of information.  Tomorrow is day 430 from the March 23, 2020 low in the Daily Cycles.
NorthmanTrader may agree with my analysis from another direction.  He maintains that the uptrend (trendline) from March 23 was broken last week (see the chart).  The SPX is now trading beneath the trendline while still appearing positive because the decline was so shallow.  Very subtle but dangerous.
This supports the notion that the bounce may not reach a new (all-time) high…
The VIX Cycles Model also supports this as strength comes roaring back starting tomorrow.
7:50 am
Good Morning!
SPX futures rallied to 4204.12 in the overnight session, leaving the probability of yet another probe higher.  Should it go higher, the two possibilities are that it may rise to the 2-hour Cycle top at 4231.25, leaving the May 7 high, or it may go marginally higher, possibly to 4244.00.  The squeezing trading bands foretell a very powerful move down once that is accomplished.
ZeroHedge reports, "US equity futures rose on Wednesday, rebounding from a modest dip  the day before as more central-bank officials joined the chorus predicting that inflationary pressures are transitory, while a recent dip in bond yields supported Nasdaq futures climb for a third straight session. At 7:15 a.m. ET, Dow e-minis were up 82 points, or 0.24%, S&P 500 e-minis were up 14 points, or 0.33%, and Nasdaq 100 e-minis were up 51.25 points, or 0.38%. Treasuries and the dollar were roughly flat, recovering from an earlier drop. BItcoin soared back over $40,000, rising as much as 8.6%, before paring gains."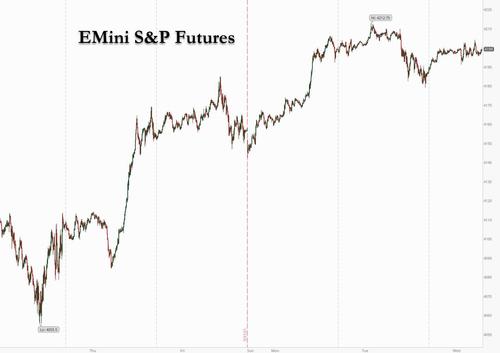 VIX futures stayed within a narrow range just beneath the 50-day Moving Average at 19.06.    Yesterday may have been a Master Cycle low on day 251 of the current Cycle.  I originally anticipated that the Master Cycle would be a high (and it still may be) because of a potential triple dose of strength due by this weekend.  If correct, we may see the VIX break above its Head & Shoulders formation by the weekend.
There have been a lot of cross-currents that have been giving possibly fake signals.  In addition, the Memorial Day weekend is usually considered to be positive season, according to the Stock Trader's Almanac.
NDX futures rose to 13727.62ion the overnight session, leaving the door open to a new high.  Should Wave C not be complete, there is a limit to Wave [v] may be 13944.00, since Wave [iii] cannot be the smallest.  The recent action is potentially misleading analysts about the future outcome of the market.
ZeroHedge observes, "Ask around on Wall Street (or any street) what the biggest bogeyman to capital markets is and 11 times out of 10 the answer will be "the taper", even though the fact that everyone is fully aware of the risks from the Fed's looming announcement, also means that it is more than fully priced in.
Which is why, in light of the fact that the market's true biggest risk is runaway, out-of-control, inflation, we previously suggested that far from being a crash catalyst, the taper may well end up being a trigger for further market gains especially since it would mean that the unprecedented flood of liquidity in the market which has sent the Fed's reverse repo facility to near record levels…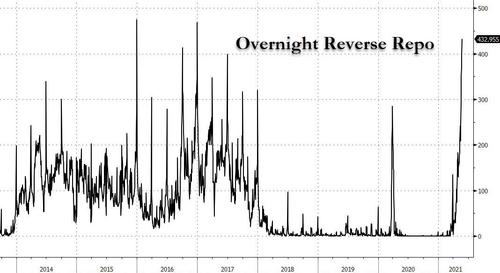 … as banks simply no longer have a place where to store all the Fed's reserves, will finally ease.
TNX has made a 50% retracement thus far.  It may decline to 15.27 and a 62% retracement as it appears the pattern is still incomplete.  Today is day 251 o the Master Cycle and it appears that it may have another two weeks to its new high with strength beginning next week.