3:05 pm
SPX may have stalled at Short-term resistance at 4155.54 and mid-Cycle resistance at 4154.80.  The reason may be that most investors went short on the way down at these levels and now the short-covering rally has run out of fuel.  There may not be any appetite for any more risk.  The hourly Cycle stopped at hour 63 instead of hour 60.2.
ZeroHedge notes, "As discussed earlier, a quick look at the "gamma tilt" in markets, suggests that there is more downside risk than upside ahead of tomorrow's sizable op-ex, which sees roughly 30% of dealer Gamma drop-off in SPX / SPY consolidated options, but even more notably, half to gamma in QQQ and 55% in IWM is also about to roll-off. Here are the details on the various gamma strikes and sizes courtesy of Nomura's Charlie McElligott who notes that the largest SPX strike is at 4100 ($4.1B), and from there it's the 4050 strike ($3.0B) to the downside and 4200 ($2.8B) and 4150 ($2.5B) to the upside."
Regardless of options expiration, or maybe because of it, a repo crisis is looming.  ZeroHedge reveals, "As expected, today's overnight reverse repo facility usage soared above $300 billion, surging $57BN from $293BN on Wednesday to a whopping $351BN as 48 counterparties parked their reserves with the Fed in exchange for a 0.000% rate.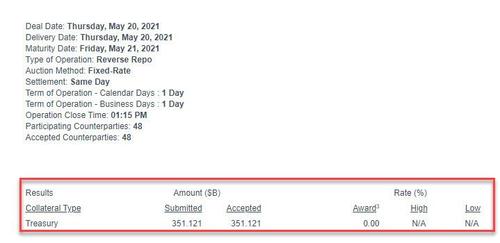 The surge in usage pushed the total to not only well above the Covid crisis high of $285BN, but was the fifth highest on record!"
10:05 am
SPX has risen to the trendline thus far.  We may see a further extension to the combination Short-term resistance and mid-Cycle resistance at 4153.60.  Although not a new all-time high, this may also qualify for a Master Cycle high on day 260.  The alternate would be the May 7 high at 4238.04 on day 247.
The NDX may also rise to its 50-day Moving Average at 12428.00 for its Master Cycle high.  The daily Master Cycles, which I track, are subservient to the weekly and monthly Master Cycles, so the alternate Master Cycle high would be the May 7 high at 13814.00.
7:45 AM
Good Morning!
The battle for supremacy in the options market rages.  I dove into the NDX options chain to discover that there were 251 contracts of call open interest (OI) vs 192 contracts of put OI.  These contracts are very large and are the domain of institutional investors.  However, the OI in QQQ calls is 83,658 contracts vs the OI in puts is 152,281 for the May 21 contract.  These are cumulative contracts based on 4 strikes on either side of yesterday's close.  Dealers have no wish to pay on these options, so they will bid up the price to the MAX PAIN area, where the least is paid on either side (Delta Hedged).  That is what is happening this morning.
After a brief decline, NDX futures are back to breakeven this morning.  The closer the NDX gets to the 50-day Moving Average, the less the dealers pay at expiration.  What they do not understand is that the first hourly Cycle is 60.2 hours in duration, of which 60 hours have transpired.  In other words, the rally may have approximately .2 of an hour to go.  Should selling resume this morning, dealers will have to Gamma Hedge, meaning they must sell the underlying futures to cover the put options' potential payout.
SPX futures are hovering tantalizingly close to yesterday's closing price after an overnight decline.   Should the rally resume, an effort may be made to close the gap at 4127.83 or the trendline at 4150.00.
Open Interest in SPX calls (within 4 strikes on either side of yesterday's close) for May 21 stand at 23,932 while put OI stands at 36,689.  MAX PAIN stands near 4200.  SPY OI stands at 122,107 calls and 196,979 puts.  Should the equity indices decline beneath the 50-day Moving Average, it could turn into a panic as dealers must cover a huge number of maturing puts by Friday.
ZeroHedge reports, "While a far cry from yesterday's morning rout, global stocks struggled for traction on Thursday after a jittery session on Wall Street where cryptocurrencies crashed and a hint of tapering talk from the U.S. Federal Reserve drove selling in the bond market and lifted the safe-haven dollar.
S&P futures dropped overnight for the 4th straight session after minutes from Fed's meeting last month showed some officials were open to a debate at "upcoming meetings" on scaling back bond purchases if the U.S. economy continued to progress rapidly, while the ongoing rout in cryptos has not helped sentiment, and just like cryptos futures rebounded from their worst levels (yes, we once again live in a bizarro cojoined world where moves in cryptos move the broader market).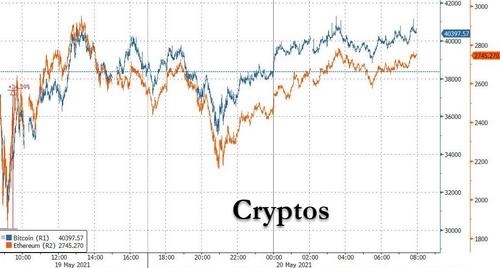 At 7:30 a.m. ET, Dow e-minis were down 100 points, or 0.32%, S&P 500 e-minis were down 8.25 points, or 0.20%, and Nasdaq 100 e-minis were down 7 points, or 0.06%. Treasuries were flat, the dollar and oil dropped."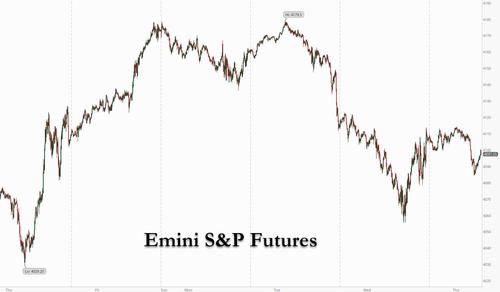 VIX futures eased back down to breakeven after spiking to 23.50 in the overnight market.  The VIX Master Cycle runs until June 1-2.  That gives this Cycle another 8.6 days to run its course.
TNX appears to be using Intermediate-term support at 16.49 as support.  It has approximately two weeks to the close of the Master Cycle.  This has the appearance of the calm before the storm.
USD futures tumbled to 89.9, but not to a new low.  This may be a normal retracement which lets us know that a further rally above yesterday's high at 90.28 gives us a buy signal.