3:00 pm
Here's a binary question; Which comes next, the sellers or the buyers?  All the indexes are hovering near their daily lows, but are short-term oversold.   As we observed yesterday, the short squeeze ran out of fuel before it did any serious damage.  The market's gumption (risk appetite) seems to have withered.  Is there something lurking beneath the surface that we are not aware?  Option Gamma turns negative beneath 4150.00.
ZeroHedge comments, "When the family office Archegos Capital abruptly imploded in late March, prompting $50 billion in block trades and $10 billion in losses at Credit Suisse, Nomura, UBS and Morgan Stanley, many bank analysts were taken by surprise. Last week, many of these analysts sounded frustrated listening to Credit Suisse's earnings call in which senior management skirted round without giving any real detail about the disaster.
"Do you think it's possible that this could produce a very fundamental reset in how your IRB credit risk models work?" wondered Stefan Stalmann of Autonomous Research. "I mean you have only CHF20 billion to CHF25 billion of counterparty credit risk-weighted assets on literally hundreds of billions of equity swaps and repos".
7:15 am
Good Morning!
SPX futures tested yesterday's low by declining to 4175.12 after retracing, but not exceeding, yesterday's all-time high.    A pattern of lower highs and lower lows may be developing that may cascade into a steep decline.  Yesterday's surge may have been the last of the trending strength to the upside.  The Cycles Model suggests we may see a Master Cycle low during options week, making the next three weeks extremely volatile.
ZeroHedge remarks, ""As good as it gets."
U.S. index futures slumped on the final trading day of April, dragged lower alongside European and Asian markets, despite stellar economic data and blockbuster earnings as traders took a month-end breather amid a record high for the S&P 500 Index and some earnings disappointments. The dollar pared April losses, and the VIX jumped.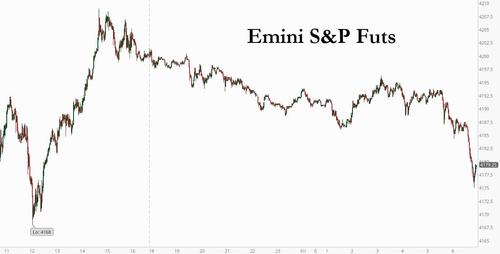 Russell 2000 futures tumbled 1.1% and Nasdaq 100 futures dropped 0.8% after China's antitrust crackdown weighed on Asian technology shares. Twitter plunged 13% in premarket trading after forecasting second-quarter revenue below some expectations, while Amazon's blockbuster earnings helped push the stock to all time highs, although gains were trimmed in the premarket."
VIX futures rallied to an overnight high of 18.80, back above the trendline and a potential aggressive buy signal.  Trending strength appears next week and continues on the rise through options week.  This portends a potentially sharp rally in the next three weeks.
ZeroHedge observes, "Blow out earnings from tech giants, everything feeling great, the bull keeps pushing, but did you know NASDAQ has done nothing for basically 2-3 weeks…
It sure doesn't "feel" NASDAQ has been stuck in a range at highs, but that is the reality.
We have seen a lot of "erratic" moves up here, relatively high vol, but no direction.
As we have pointed out over past days, despite everything feeling awesome and tech earnings doing great, NASDAQ "fear" has stayed bid.
VXN is up from recent lows and has stayed "up here" since that pop higher some 2 weeks ago."
NDX futures also tested yesterday's low, making a potentially new low at 13833.62.  My comment yesterday about the resistance at 14000.00 were more accurate on the NDX than the 4200.00 resistance on the SPX.  Short-term support is at 13881.50 and appears to be broken, giving NDX an aggressive sell signal.  I would like to see more follow-through to the downside to build confidence in my outlook, but yesterday's weakness spoke volumes regarding the outlook for the NDX.
My comments regarding the influence that China is having on the tech industry may be justified.
ZeroHedge remarks, "Following reports that Beijing was looking to scapegoat regulators responsible for initially permitting the ill-fated Ant Group IPO, which was scuttled by the CCP leadership back in October after Alibaba founder and Ant Group Chairman Jack Ma criticized Chinese tech regulation, saying it was "stifling innovation", at an obscure industry conference, it appears China's anti-trust regulators are imposing new restrictions on the financial arms of other Chinese tech giants after hobbling Ant.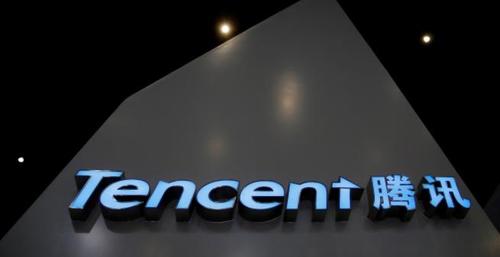 As Beijing reportedly prepares to slap Tencent with an antitrust fine commensurate with the $2.8 billion recently demanded from Alibaba, news that Chinese regulators had summoned 13 internet companies and ordered them to rectify their digital financial businesses dealt another blow to market sentiment. The wide-ranging restrictions could weigh on credit growth and hurt the prospects of public share offerings by fintech firms, analysts have warned.
The Shanghai Index challenged Intermediate-term support at 3442.58 before bouncing back above it.  Remember, the 50-day Moving Average is at 3474.88, leaving it on a sell signal while going sideways for the past two months.  A decline beneath the Intermediate-term support and especially mid-Cycle support at 3408.97 reconfirms the sell signal.
ZeroHedge reports, "For the 4th time in the last 5 months, China's Services and Manufacturing PMIs missed expectations in April.
China's official manufacturing purchasing managers index declined to 51.1 in April from 51.9 in March (and well below the 51.8 expectations), according to data released Friday by the National Bureau of Statistics.
The non-manufacturing gauge, which measures activity in the construction and services sectors, dropped to 54.9 (from 56.3 in March), compared to 56.1 projected by economists."
ZeroHedge also observes, "Earlier this week, we highlighted an interesting article in the FT this according to which China's population was set to decline for the first time since the 1950s when the national census data is released soon. However, in response to the report which prompted widespread speculation over implications of this demographic inflection point, the Chinese National Bureau of Statistics (NBS) best known for faking every possible piece of data, released a statement this morning saying that the population continued to grow in 2020 ahead of the official release. Watch for 2016-19 revisions though.
So although a decline was avoided, the NBS recently said that China's demographics "has reached an important turning point".
USD futures climbed to an overnight high of 90.88, adding credence to yesterday's stretched (272 days) Master Cycle low.   USD is set to rally into options expiration week in May, bolstering the notion of an equity liquidation seeking a safe haven during that same period.
TNX appears to be back-testing Intermediate-term support at 16.39 after breaking above it.  The Cycles Model suggests increasing strength, especially during options week.