3:04 pm
Using the Cycle Top trendline as an Ending Diagonal, we may take a small (aggressive) short position here.  There's a long way to go to get confirmation, so patience is still the key word.
ZeroHedge observes, "Having surged from an open at $381 to almost $430, COIN has tumbled back to $375…
And the moment COIN broke its opening print, US equity markets appeared to puke…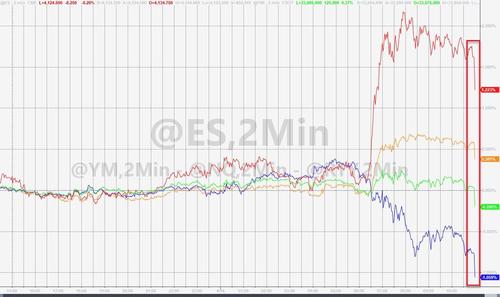 Is this really the market now? …as goes COIN, so goes US stocks?
Bitcoin also legged lower…"
8:10 am
Good Morning!
The Ending Diagonal has narrowed down to an impossibly thin space (24 points).     SPX futures have been confined to an even narrower space (4130.00 – 4139.00).  EW relationships suggest the final high may be near 4200.00.  Following that, a  breakdown may be imminent, just in time for options expiration.
VIX futures have dipped again, with a possible low at 15.70.  If so, VIX has a new Master Cycle low on day 246 of the current Master Cycle.  There is no surprise here.  VIX options/futures expire at the end of today.
Sven Henrich tells us, "m a very lonely voice in equity markets right now. Technically nothing has really surprised me yet, not the VIX crush to the February gap fill, nor the move toward the 4156 zone on ES, all of these were part of the risk spectrum since the beginning of the year. The only surprise here is the velocity of the prices, the complete lack of respect for any deviating correlations such as moves in the dollar and yields.
Everything continues to be ignored. But because things are ignored doesn't mean they don't matter.
Nothing matters inside of a bubble until it does. The phrase new paradigm is becoming ever more prevalent to justify prices and the tape. Truth be told, there is no new paradigm except this one: More artificial liquidity than ever and more debt spending than ever and as a result people chasing stocks into higher valuations than ever.
That's it. There is no mystery."